Huahh... Time does fly when you're having fun.. Gak krasa banget liburan lebaran udah abis..bis..bis..! Senin lusa udah mulai kuliah lagi.. Udah mesti siap2 midtest.. Udah mesti ngadepin tugas2 lagi.. Hiks..hiks..hiks.. Padahal baru ngerasain seru2nya liburan pas di akhir2..

Hari ini... jalan sama my girlfriends back in high school dulu.. Pipiet, Lani, n Shita (harusnya tambah Esti... hehehe.. next time ya, sti..) Seru banget.. curhat2an.. ngegosip (yeah, we're girls!).. shopping (again, girls!).. Pokonya seneng lahhh..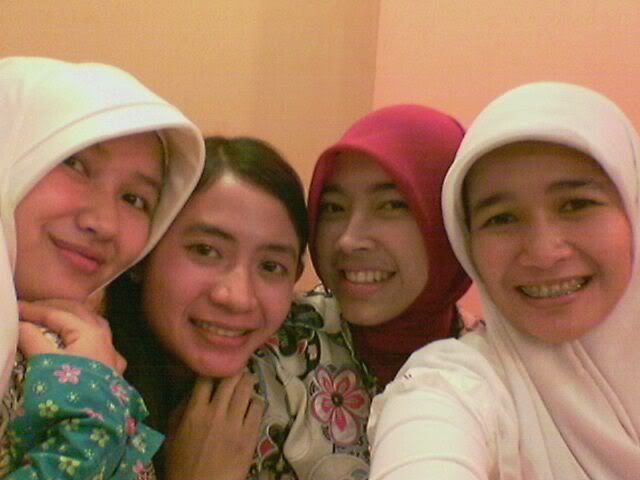 Left to right : Lani, Shita, Me, Pipiet
Dan.. kalo udah ngumpul.. yang ga mungkin lupa ya.. photo session.. huhuhu.. Jepret.. jepret.. dari mulai pake digicam ampe pake kamera hape.. Sampe diliatin sama orang2.. Bodo amatttt!!! Huhuhuhu... Buat yang tadi sore ada di J.Co Plasa Semanggi dan enek berat sama kelakuan empat cewe aneh banci kamera yang ga tau malu... Maap yahh.. *peace!*
Besok gw balik ke Bandung (or Jatinangor to be exact =p).. Hmm.. Lotta things've been waiting for me back there.. and lotta people also.. huahuahua.. (hello kamuuu.. yg lagi nyengir2 baca postingan ini.. iye2 tenang ajah.. i'll keep my promise..)
Hmmm.. bingung euy mau nulis apa lagi yahhh... Karena gw bingung,berikut ini dengan kurang berkaitan dengan tulisan di atas, gw taro foto gw dan Shita waktu lagi jadi penerima tamu di resepsi kawinannya Wino (Lani's brother).. Gw sangat teramat gak pede dengan make up super tebel yang membuat gw merasa rada2 kayak mau mejeng di Taman Lawang.. huhuhu..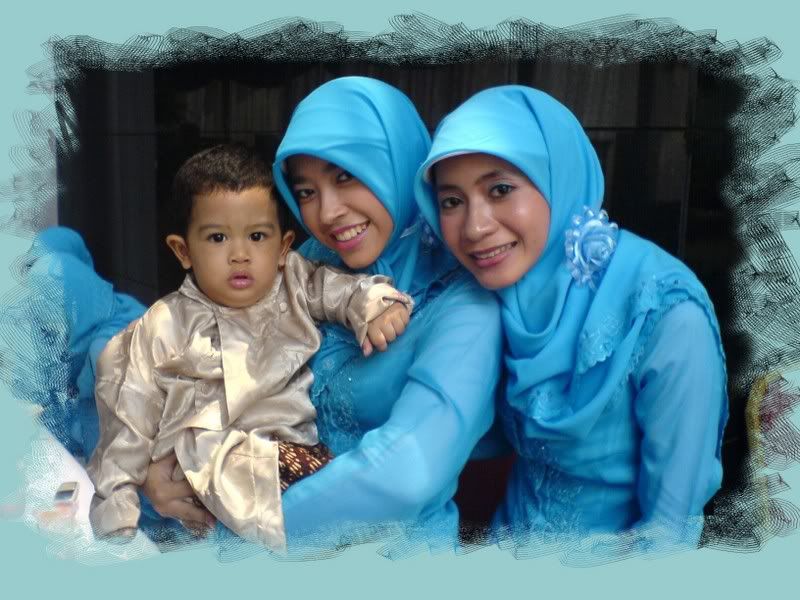 Left to right: Mas Ais, Me, Shita

Anak kecil ndut ganteng dan lucuuuu bgt yang gw gendong itu namannya Mas Ais (Lani's nephew).. Sumpah itu anak lucu bangett.. Pasti kalo udah gede bakal ganteng banget dehh (mupenk ganjen).. Kira2 kalo dia udah gede mau gak yah sama gw??? huehehehe.. Kalo dia gede?? gw udah tante2 kali yeee..